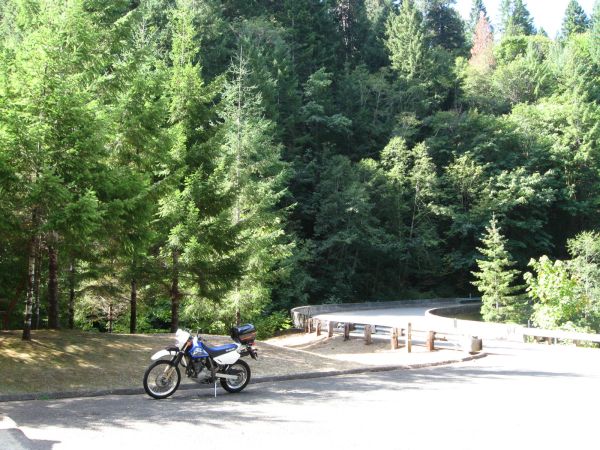 Forest Rd 33 kiosk and restroom at base of climb
Well known for the Powers-Glendale bike route, much of the same route was ridden in the 2011 Cycle Oregon on the Powers to Riddle stage. The only difference was going north to Riddle at the intersection of Cow Creek Road instead of heading south towards Glendale.
Much of this ride is part of the Tour de Fronds annual ride in the spring that goes from Glendale to Powers / Powers to Glendale.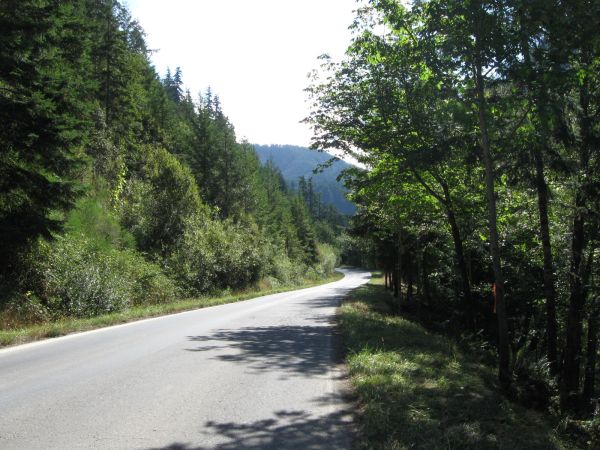 Forest Rd 33 south of Powers
The route is well marked for two wheel travel but it is quite remote, and one will encounter very little traffic on the route. Much of the higher elevation will be closed in winter as well, due to snow/ice and should be considered impassable.
The route features some fantastic scenery and terrain - this is a "must-do" adventure ride. It's about 70 miles from Powers to Riddle and about the same from Powers to Glendale. The highest road elevation on the route is just over 3,600 feet, with about 20 miles of the ride over 2,000 feet.
The roads are steep, with up to a 10% grade on the west side, and with a sustained 10%+ on the east side. It's a challenging ride. There is approx. 5,300 feet of climbing going from west to east, and approx. 4,100 feet of climbing going from east to west.
As of September 2011 the road condition was very good, with only a bit of gravel on the lower part of the steep descent on the east side. Many of the open culvert replacement gravel sections had been paved over - only 1 or 2 such sections remained. Just south of Powers some road and bridge replacement was taking place for a short section.
While traffic is light, there are quite a few campgrounds, signage is relatively up-to-date and fairly visible, and there is an informational kiosk and restroom at the base of the first real climb (about 15 miles south of Powers). There's also a Cow Creek area informational kiosk just east a few miles from Riddle near the road at the base of the nickle mine.
This Cow Creek kiosk describes the history of the area - make note of the 1905-1906 railroad trestle at the intersection with Cow Creek Road and West Fork Road as you ride past. This area is one of the oldest settled routes in Oregon.