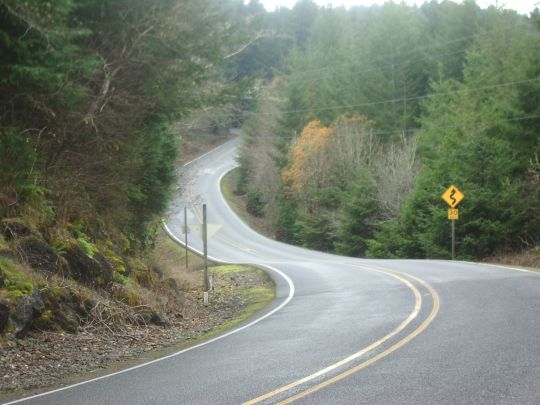 Bottom of East Beaver Hill Road
East Beaver Hill Road is a great up or down hill steep connector up between North Bank Road (on the east end) and Hwy 101 (on the west end). It quickly rises from the Coquille River and North Bank Road with several sweeping turns and good pavement except for a few pavement heaves due to water under road.
This is usually a higher traffic road for people to go from Hwy 101 to Hwy 42 (to go to Coquille). On the west end, if one wants to connect to Beaver Hill Road (to Whiskey Run and/or Seven Devils Road), one would go north on Hwy 101 about 200 yards then go west onto Beaver Hill Road.
It's a great way to do a loop from either Coos Bay, North Bend, Coquille, Myrtle Point, and Bandon to other roads that offer a return route to the initial departure point.

View East Beaver Hill Road in a larger map