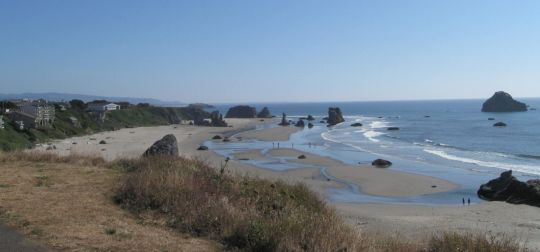 Looking south at Face Rock Park from Coquille Point
Beach Loop Drive – Famous for its views and access to beaches close to Bandon. Beach Loop Drive runs north-south along the coast and can be access from several roads from downtown and Hwy 101.
Beach Loop Drive is a favorite for two wheel adventure as it's easy to make progress from viewpoint to viewpoint and enjoy sounds and smells along the way.
It's an easy relatively flat route that can be taken one way, with return on Hwy 101 or simply turn around at one end or the other for return trip.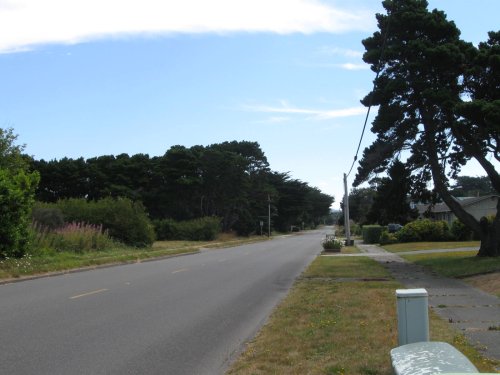 Bandon 4th Street SW looking east
From old town 1st Street SE will allow access up the bluff by Oregon Ave SE or Edison Ave SW to 4th Street SW.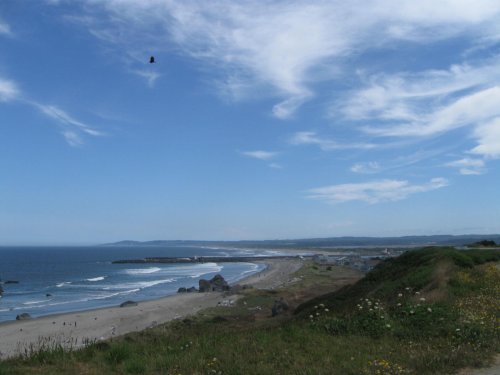 Jetties from 8th street lookout
4th Street SW connects to Ocean Blvd to the west, which then further connects to Beach Loop Drive at the edge of the bluff above the South Jetty.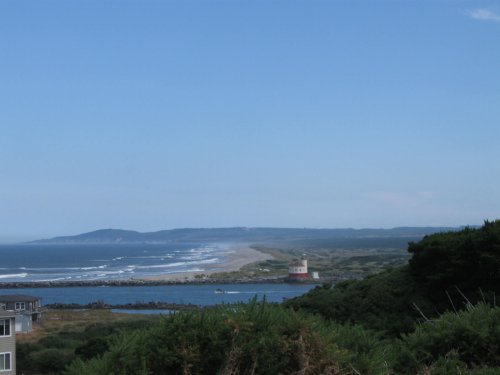 Bullards Beach from Ocean Blvd
From Ocean Blvd one can catch nice views of the Bandon (Coquille River) Lighthouse.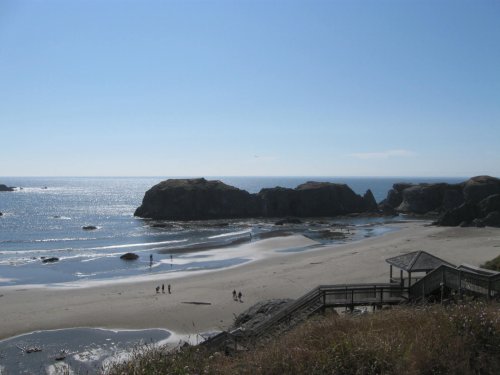 Elephant Rock
Access to Beach Loop Drive from Hwy 101 can also readily be found at 11th Street SW through City Park. 11th Street SW will also take one to Coquille Point (Kronenburg County Park) overlooking Elephant Rock with stair access to the beach both south and north of Coquille Point.
Further south, Seabird Drive connects from Hwy 101 to Beach Loop Drive, and not until Beach Loop Drive reconnects with Hwy 101 there is no other access to the south.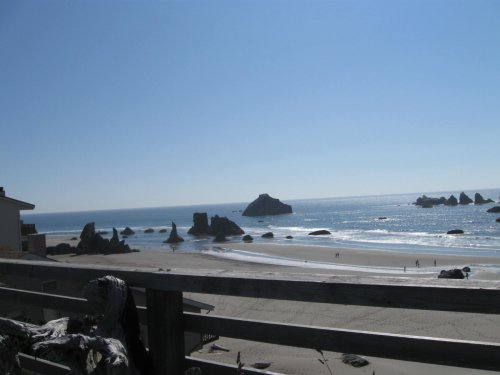 Face Rock Cat and Kittens
Beach Loop Drive meanders south from above the beach, where numerous rock formations rise out of the sand and ocean.
The sands change from day to day depending on tide, wind, season and storms.
The rock is of a much older formation generally to the south of Coquille Point compared to rock north of the point. At Cape Arago, for example, one can see clearly the difference to much older rock formations south of Coquille Point.
The ocean also used to be at the height of the bluff, and also further offshore over many years. In the late 1800's for awhile the Coquille River ran along the base of the bluff, which did not provide a navigable mouth to the ocean so shaping of the jetties commenced.
From Coquille Point or above the Jetty one can usually see Cape Arago to the North. From Face Rock Park one can usually see Cape Blanco to the south, and with waiting one can just see the lighthouse beacon there.
Beach Loop Drive has access to the beach (from north to south): There are stairs both north and south of Coquille point; across from Sunset Inn through their lower parking lot; at Face Rock Park; across and just to the north of Seabird Drive; across from Best Western Inn at Face Rock; at Devils Kitchen State Park; at Bandon Beach State Park; and at China Beach State Park.
There are other access points on Beach Loop Drive, such as from the Windermere motel across from Inn at Face Rock and across from the Bandon Stables near Devils Kitchen for example, but more than likely access is not possible in most areas due to property intrusion, vegetation or the bluff.
There are marshes, a golf course (Old Bandon Golf Links, adjacent to Inn at Face Rock), and many other things to see and do along Beach Loop Drive. Public Restrooms are on the boardwalk in old town, at the South Jetty, at Face Rock Park, at Devils Kitchen, and possibly at China Beach (seasonal porta-can).
There are a couple of restaurants on Beach Loop Drive: Lord Bennett's, Bandon Bill's Seafood Grill, and Old Bandon Golf Links Pub. Beach Loop Drive Motels include Table Rock Motel, Bandon Beach Motel, the Sunset, and Inn at Face Rock.
One can walk or run the beach from the South Jetty all the way to Four Mile Creek to the south (or further) depending on height of creek water level that break the beach to the ocean. Generally though, access from the South Jetty to at least just south of Seabird Drive is possible year-round. But check tides and high surf conditions to get around Coquille Point and Face Rock Park!
Just south of Beach Loop Drive where it connects to Hwy 101 – approx. 1 mile south – is Two Mile Lane, which connects in less than a mile to Rosa Road to the east, which connects to 11th Street SE (at Fillmore Ave SE) in Bandon to the north.
One can make a nice 12 mile (or so) rolling loop from old town down Beach Loop, to Two Mile Road and Rosa Road, back north to Bandon. Additional roads like Riverside Drive or Prosper Junction Road are easily added for mileage and a different perspective on the Bandon area.

View Beach Loop Road in a larger map